- BEACH CALLIGRAPHY -
Andrew van der Merwe
WOR(L)DS in general
This calligraphy project, brainchild of stone-carver Maud Bekaert, has a number of components, the most important being the stones, designed by South Africans and carved by Belgians, which were auctioned on 28 September with the proceeds going to Breadline Africa and Sprinkle, for the benefit of children orphaned by the Aids epidemic here. The auction was very successful, raising 61 250 Euro (about 715,000 ZAR / 85,150 USD). Sprinkle, under the leadership of, Chantal de Maeyer, is building a much-needed orphanage in the Drakensberg area, and Breadline has a number of orphanages under its wing. Bev Gillespie, who is a member of both the Cape Friends of Calligraphy and Breadline Africa, has played a pivotal role in organising the event and how the funds are to be distributed. It was she who introduced Maud to some of the orphanages which they are dedicated to helping. Other components of the WOR(L)DS event include exhibitions of work by South African calligraphers at Manna and Symposion, and the beach calligraphy show. The beach calligraphy event was intended to enhance the interest in WOR(L)DS and to help with some of the fund raising.
This is a personal report on my beach calligraphy in general and how this, my first major event, worked out.
The stone auction on YouTube(YouTube)
http://www.youtube.com/watch?v=mxr9RkVRJJA
http://www.youtube.com/watch?v=wn5VfmjCYQw
Beach calligraphy back ground

I am a professional calligrapher and have freelanced in Cape Town, South Africa for about 15 years. (for more background info seehttp://www.writtenword.co.za/home_about.htm ) I also surf, and doodling on the beach has always been an enjoyable outlet for me. Scratching in the sand with a stick, however, has proved less than satisfactory because it makes more of a mess than a mark. This has led me, over the past seven years, to develop various instruments which mark the sand in less messy ways, and ultimately to a kind of scoop which leaves neat V-cut letters of the sort one gets in stone carving.
My casual doodling on the beach received a boost in 2004 when a workshop I held for the Cape Friends of Calligraphy was covered by a major local newspaper as well as national television. It was received with great curiosity and enthusiasm. After that, I started taking my beach calligraphy more seriously and began developing new instruments.
The next boost came in 2005 when Maud Bekaert, a Belgian stone carver, who was visiting South Africa on holiday, looked me up via the internet. I showed her around the Cape Peninsula and we stopped at a beach to do some beach calligraphy. She was so taken with it that she began thinking about having me come to Belgium and perform there. At this stage I was still photographing my work with my cell phone camera!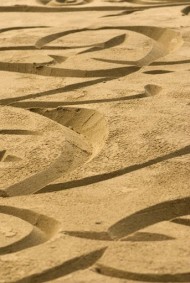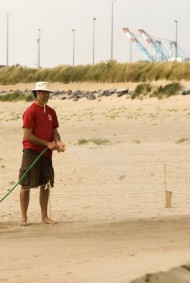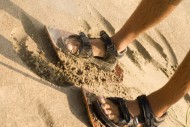 Zeebrugge

In August 2006 I was invited to Brugge for two days to meet the people of Brugge Plus, the marketing organisation of Brugge, as well as other people important to the cultural organisation of the city. I prepared a demonstration on the beach, which resulted in the green light for the beach calligraphy event. Apparently, no-one had seen anything like it before.
Thanks to Maud's hard work, a lot happened in the next two years, and I arrived there again in July 2008, ready to spend the whole month writing on the beach. The beach part of the WOR(L)DS event was launched by Patrick Moenaert, the Mayor of Brugge, at a small function in a marquee on the beach , after which the whole party of about 50 people, walked down to see the work I had begun, only to find that it had been washed away by the high tide! I then had to demonstrate for the media and everyone in the awful, mushy, shelly sand that was left! Somehow, much to my surprise, they remained pleased (even after I got mud on the mayor's shoes!), but for me this difficulty was to set the tone for the first half of my time there. I could not work to my own standard, and struggled to enough work for display, but people remained enthusiastic.
sp0810_14.jpgsp0810_15.jpg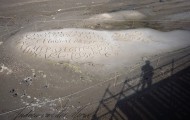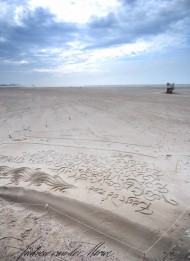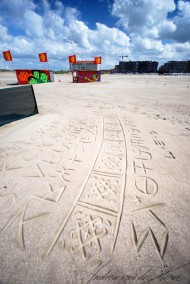 I think we can safely say that it was a world first, but as such there were some serious difficulties. When I arrived on the beach to begin work, I was faced with a huge, 30 x 300m, specially demarcated area, almost none of which contained sand I could work in! It was dry, full of shells and had been driven all over by the construction vehicles which had placed the shipping containers for offices and a viewing platform, which, it turned out, had been placed below the spring high water mark. The only areas I could work in were far down, below the high water mark, where the work would be washed away every day. On top of this, the weather which followed was very bad. It rained constantly and often the wind blew so hard that my work was blown away before I could finish it!
I worked extremely hard and began to feel depressed and miss my family! One thing that saved my sanity in that difficult time was learning an old Flemish word for the temporary nature of things: "vergankelijkeid." It became my motto. I wrote "vergankelijkeid – onvergetelijkeid" around a small beach flower (onvergetelijkeid = unforgettable).
The wind did however, blow in some dunes of nice fine sand around the containers at the entrance and once we had rigged up a water supply, I was able to wet these dunes and do some good work in them.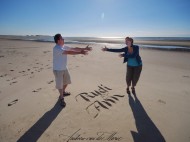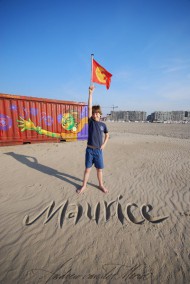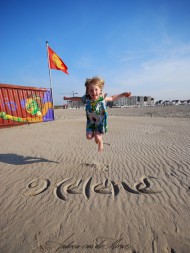 I spent about half my time on the beach carving a very enjoyable poem about the sea, written specially for the event by David van Reybrouck, one of Belgium's best known poets. This work, I did in the most prominent places near the entrance, and when the weather finally improved, in the last two weeks, it lasted for up to three days.
The other half of my time was spent carving names for individuals and sponsors of the event, the proceeds of which went to Sprinkle and Breadline. I carved nearly 300 names and other requests! I did this work below the high water mark. Then I spent most of my evenings and early mornings processing the photographs.
Belgians are witty and fun-loving and I had a very good time relating to the small crowds that gathered around to watch and have their photos taken with their names in the sand. I got some good photographs, and I have to say, that this, in addition to being able to drink the remarkable Belgian beer, was the most enjoyable part of the experience for me.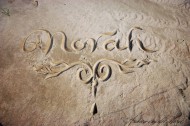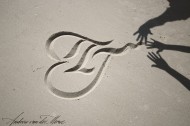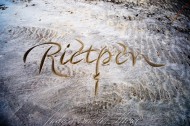 Where to from here?

For me, this event has been a lifeline. Trying to make a career as a professional calligrapher in South Africa has been very difficult and there have been many times which I have considered giving up. This event has encouraged me, and thanks to the sponsorship of Brugge Plus, I was paid well enough to be able to set aside my bread-and-butter work long enough to go to Belgium, and to spend time developing my beach calligraphy skills to a new level. I have also been able to buy some of the photography equipment I need.
My short term vision for the beach calligraphy is to begin printing and selling greeting cards, to construct a web site at www.beachcalligraphy.com and to offer workshops to interested calligraphy societies around the world so I can begin sharing my discoveries. I am exploring ways to mass produce my instruments. I have also begun teaching some of the refugees who were drawn to calligraphy through the WOR(L)DS project.
The impact of WOR(L)DS on local calligraphy

I have spoken here mainly about my beach calligraphy, which may be interesting to calligraphers, but is nothing compared with the stories to be told of the lives of the many, many Southern African children orphaned by Aids. For their sake, I am sure we would do this again if the opportunity arose, but there is another important thing that needs to be said about WOR(L)DS: this project has been the catalyst that South African calligraphy needed to begin finding its own voice, its own style. It has also broadened us socially, something we desperately need in a country whose success depends on creating harmony between a huge variety of people who, because of the practice of Apartheid, were at the brink of war with each other. The practice of calligraphy here has previously been dominated by a few, relatively privileged whites, but through WOR(L)DS, we have drawn in people from very different "worlds" - even Zimbabwean and Congolese refugees, thus beginning a new and exciting era for calligraphy in South Africa. This interaction is empowering for the newcomers and gives all our work deeper meaning and vitality.
Calligraphy in South Africa is still very small-time and none of this would have been possible without the wonderful, generous, hard-working, warm, friendly and wise partnership of the calligraphers of Belgium - Maud Bekaert, in particular - and the City of Brugge which threw its weight wholeheartedly behind WOR(L)DS. We will always be grateful and value this friendship.
Links
The Beach Calligraphy display was a minor part of the WOR(L)DS project and it certainly could never have been as spectacular as the sand sculpture displays that are so well known in Belgium, but the media attention it attracted was surprising. It was covered by local television and local and national newspaper: Here are a few links, including one page with a video insert:
http://www.standaard.be/Artikel/Detail.aspx?artikelId=4P1TSDDJ
http://www.knack.be/weekend/nl/news/articles/a8740-article.jsp
http://www.focustv.be/articles/index.jsp?articleID=35219&sectionID=188&siteID=33
http://picasaweb.google.com/Scriptores.Redactie/ZandkalligrafieEls?authkey=P3CHFSYkIXA
One last thing
A catalogue of the WOR(L)DS work has been made possible by extensive sponsorships gathered through the hard work of Maud Bekaert. Beautifully designed by one of the main sponsors, Hilde Wintein of OuVert (who also generously accommodated me for the duration of my stay), it is being sold with all the proceeds going to Sprinkle and Breadline. To buy a copy, contact Chantal at chantal@sprinkle.be.