This article is an interview with Tim Noad, published in the spring 2015 issue of "The EDGE" magazine of the Calligraphy and Lettering Arts Society (CLAS).
_________________________________________
Tim Noad is one of our most talented members and one of the few lettering and heraldic artist who earns a living doing what he loves. We have been lucky at Oxford Scribes to have the benefit of his experience as a tutor for workshops designing dragons, writing in gold, creating repeating patterns for borders and most recently leading the Heraldry for Calligraphers Certificate of Skills course. He has been a speaker at Club Day telling us about his coin designs for the Royal Mint and has supported many exhibitions over the years. He has work in the collection at the V & A and has created scrolls celebrating royal weddings amongst many other official documents. Tim is notable amongst heraldic artists in that his calligraphy is as good as his painting! His work covers traditional skills and more contemporary approaches and is inspirational!
Have you always been interested in heraldry?
I think I always have! I still have some felt tip heraldic pictures I did at the age of about seven. As a child I was constantly drawing and my mother, a graphic artist, was always very encouraging. I also had a primary school teacher who taught us medieval history which really caught my imagination. At the age of about twelve I decided to join Middlesex Heraldry Society. The other members were a lot older than me and included one of my art teachers from secondary school. But they were welcoming and I discovered that there was such a thing as a heraldic artist. I joined some of them at an art class with Norman Manwaring, a Herald painter (heraldic artist) from the College of Arms. It was held one evening a week at St. Bride's Institute in London and I took the tube into the City of London after school. With the exception of my art teacher, the school tried very hard to put me off this 'unrealistic' career. I was also quite academic and they wanted me to go to university but I was determined to become an artist.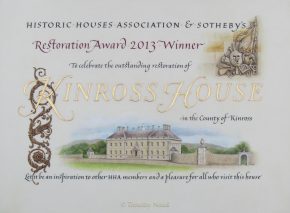 Presentation to Kinross House for outstanding restoration 2014, showing the....
When did you decide you wanted to study calligraphy?
I did small amount of self-taught calligraphy from the age of about twelve. I had a set of worksheets called 'How to Write Like This' (ie. not very well) and an Osmiroid italic pen! I didn't do any calligraphy classes until I started the course in Calligraphy, Heraldry and Illumination at Reigate in 1984. At first I just wanted my calligraphy to be good enough to go alongside the heraldry but I struggled to achieve anything I was satisfied with.
How Did you learn your skills?
Anthony Wood, who founded and ran the course at Reigate, was an excellent teacher of the craft skills of heraldry and illumination. He was joined by Gerald Mynott, who encouraged us to take our work a step further and set inspirational projects. After Reigate I joined the Advanced Training Scheme of the SSI. Gaynor Goffe was one of the tutors and former Reigate student herself. She made me see that my calligraphy was still way behind my other work and I joined her monthly workshops, beginning again from scratch. I eventually became a Fellow of the SSI in 1992. I have never stopped learning, both by attending workshops and by constantly striving to improve my own work and technical skills by practice and analysis.
Who has most inspired you?
I have to say my teachers – my school teacher Gwyneth Jones, Norman Manwaring, Anthony Wood, Gerald Mynott and Gaynor Goffe. Of course, I also admire many other calligraphers and artists, past and present. William Morris has always been a big influence for the design. I sit and analyse my living room curtains every evening.
When did you join Oxford Scribe?
I joined in about 2000.
How did you get your job at the College of Arms?
Norman Manwaring allowed me to come and work with him in his studio at the College for the add day in the school holidays. In 1984 the College of Arms celebrated its 500th anniversary and aged seventeen, I painted a big historical broadsheet showing the building surrounded by characters and artefacts from its history, such as Richard III and Mary Tudor, the two founders. I showed it to the Heralds and they borrowed it for display in the College during the anniversary. Sadly Norman died in 1985 while I was at Reigate. When I finished my course the following year, the heralds invited me to come and work there and I took up residence in Norman's attic studio where I still am, thirty years later.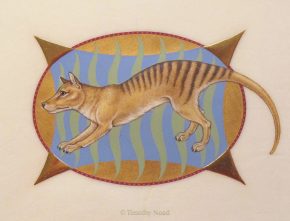 Miniature of a Thylacine, or Tasmanian tiger in gouache and gold on vellum.
What is your job title at the Collage of Arms and what do you do there?
My title is Herald Painter which is exactly the same as heraldic artist. I am also a scrivener, which is how they refer to calligraphers. Most of the other artists working for the college are either one or the other. The Heralds design new coats of arms in consultation with the client, who might be an individual or corporation, and come to me to paint and write a grant of arms. This is a vellum document, a form of letters patent with Royal authority granting the coat of arms. I also do Royal Charters, pedigrees and other formal commissions. I am also a Scribe and Illuminator to the Crown Office but there is very little work there since the illumination Peerage patents were axed in 2010.
Would you recommend heraldic art as a career to someone starting calligraphy/heraldry now?
I would not want to discourage someone with a passion for the subject like I had but it is very hard to make living, especially starting out, and probably even more difficult these days. You need to know about a very complicated subject as well as building a reputation. However there are always commission involving heraldry for calligraphers, especially if you have followed a Certificate of Competence!
What is the commission you are most proud of?
I can't choose just one! I am proud of the big Royal Charters, such as the Oxford Centre for Islamic Studies and William and Kate's Royal Marriage Consent, which Queen has signed. I was also very pleased that my designs were chosen for the One Pound Coins in 2013 – 14 and the Jubilee Medals. Often I don't get any feedback for the really important jobs and it means just as much when individual clients say that something I have done has moved them.
When did you take part in Mastermind? What was your specialist subject?
I took part in 2000. It was during the period that Mastermind was on Radio 4 so I didn't have quite the ordeal of the TV contestants, although I did sit in the black chair. However I got through to the final and came third! My specialist subjects were the Pre-Raphaelites, the churches of Sir Christopher Wren and the composer Henry Purcell. In those days you couldn't take any subject related to your occupation. I also joined the College of Arms team for University Challenge – The Professionals in 2003. Very much the underdogs, we were soundly beaten by the Inland Revenue, but they were already the national quiz champions and were the eventual winners of whole contest.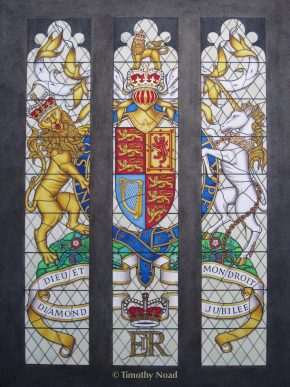 Tim's painting of the Royal Arms, which he helped design, in the Diamond Jubilee Window at Westminster Hall, commissioned by the stained-glass artist, John Reyntiens.
Do you have any other talents we do not know about?
Not really, I am very work and arts oriented. I enjoyed Baroque music, gardening and visiting art exhibitions and old buildings. I had the last laugh on my school as I eventually did a part-time university degree and MA in art history. Or perhaps they were right after all?
Helen Scholes and Tim Noad