This article is about Jurgen Vercaemst featured in Volume 48, Issue 3, Spring 2023 of Alphabet, the quarterly journal of the Friends of Calligraphy, a San Francisco-based calligraphy society. The author is Carl Rohrs, lettering artist, designer, and longtime editor of this journal. Jurgen Vercaemst: Inspired by Imperfection
*****************************************************:
Jurgen Vercaemst: Inspired by Imperfection
Belgian lettering guru Jurgen Vercaemst's father always encouraged his children to appreciate graceful handwriting, so the sense that letters mattered has been a part of Jurgen's consciousness his whole life. His actual calligraphic journey began with a gift from his future wife, Anneke: a workshop by Frank Missant, a student of Claude Mediavilla's, around 1990. This also coincided with a local television documentary about Brody Neuenschwander's life of art right there in Bruges. The combination spurred what Jurgen calls "a life full of calligraphy."
His primary inspiration and teacher has always been Yves Leterme. Jurgen happily admits to being enthralled by his work and that he attends every possible workshop with him, and has been doing so for nearly 30 years. In a recent conversation, Jurgen told me about meeting him, "Shortly after Frank's class, I remember searching for all existing workshops. There was this one place, Moritoen, where cultural events and workshops happened. I discovered Yves's classes, and took several — many — with him there. He was the first to ask me to teach there, too, later in the '90s, so he affected my life in that important way, too."
Yves wrote to me about his most faithful friend and student, "We have known each other for almost 30 years. He joined my class and it was immediately clear that this was someone who had been seriously bitten by the lettering bug. Even then, he managed to combine a busy job with a time-consuming hobby, and he can still do it. It never ceases to amaze me. "Jurgen is gentle and humble, generous and respectful, eager to learn, endlessly patient; has good taste, a great sense of precision, and above all, a never-drying well of resourcefulness — all virtues that go a long way in the world of calligraphy, for a teacher and artist."
Another fateful teacher in his life is last issue's victim, Peter Thornton, who raised Jurgen's appreciation and understanding of pure letterforms, composition and layout, and, most significantly, the drawing of letters. When asked about him, Peter happily replied, "When I met him in a work- shop in Belgium almost 20 years ago, his work in class seemed a release of his gentle creativity that many of his students now feel and witness in his teaching. His work has a clean, crisp look that shows his tremendous skill and invention. His love of calligraphy both consumes and expands within, as indeed love often tends to."
Other teachers who have expanded his knowledge and sharpened his technique include Joke, Liesbet, Pieter, and Kristoffel Boudens, Brody, John Stevens, Torsten Kolle, Ewan Clayton, Christopher Haanes, Julian Waters, and Elmo van Slingerland. Jurgen has absorbed and transcended his education with these guides to the extent that three of his most important teachers, Yves, Peter, and Elmo, have each chosen to team-teach with him on multiple occasions, including A Show of Hands, the 2016 conference in Asheville, NC with Peter, Cheerio with Elmo in 2019, and with both Yves and Peter at once, a class titled Trilogy, in Bruges in 2014. He team-taught with Yves, Brody, and two other Bruges-based scribes, Missian Veerle and Veronique Vandevoorde in a year- long class called Shape Your Story, 2019. He has also been a regular participant in Brody's famous, elegant "A Brush with Silence" writing demonstration events since 2009.
When I met Jurgen, about 15 years ago, he, along with Anneke, ran a parquet floor business (from 2004 to 2015) called Willton in Ruddervoorde, just outside of Bruges. It had a showroom large enough to hold calligraphy workshops — so that's what he did, inviting international instructors as well as artists from the impressive pool of local talent, cultivating a modest but overwhelmingly welcoming place for the celebration of lettering arts.
The medieval town of Bruges is perhaps the most lettering-mad and -gifted municipality in all of Europe, if not the world. The combination of being the home of Jef Boudens — Belgium's premier scribe through much of the second half of the twentieth century, who also happened to raise five brilliantly inventive lettering artists (brother Jeroen is the only one with whom Jurgen has not studied) — and the arrival of one of the most innovative minds in the lettering world, American Brody Neuenschwander, turned the town into a greenhouse for talented scribes and artists. Wholly original lettering-based work and unique scribal events and activities have flowed ever since, attracting the lettering faithful from around the world. And we haven't even mentioned Bruges native, Lieve Cornil, who started an entire lettering institute, the European Lettering Institute, or longtime lettering patron and collector Jan Broes (an important client and friend of Elmo's), who hosted exhibitions and festivals devoted to lettering as far back as the sixties.
There is an overwhelming number of amazing artists who have thrived under the auspices of these amazing combinations of circumstance and personalities.
The crux of that whole geographical detour was to point out that, now, one of the warmest centers for this thriving region of exceptional scribes is Morris Coffee & Crafts, the next enterprise (after selling the flooring business and moving to the other side of the Ruddervoorde crossroads) that Jurgen & Anneke run as a front for lettering classes, exhibitions, and events.
Left: The Morris coffee bar logo, a collaboration by Elmo, script, & Jurgen, caps.
Center:Serio ludere, to play seriously.
He claims Morris is first and foremost a specialty coffee bar that also serves breakfast and organic soups, salads, sandwiches, and desserts for lunch — now with the enthusiastic help of their son. Jurgen told me "Fortunately, we have Emiel, who has decided to join us. So now he's our chef, our full- time barista — he is even growing vegetables for us. And I do the dishes." There is also a two room B & B.
But on the second floor, there is the workshop room which can also handle overflow seating for coffee shop patrons on busy days which contains a space for lettering supplies and publications, and the whole cafe is a gallery of calligraphic work, on the walls, up the staircase and even under glass on the tables.
The name of the establishment comes from Anneke's grandfather, as well as their cat— who, sadly, died of old age just over a week before this writing — and, oh yes, thirdly, William Morris. Jurgen writes, "I'm a very lucky guy being able to run this business with my lovely wife and Emiel, our wonderful son and my best friend, with them graciously leaving me time to dedicate to calligraphy." Which means organizing workshops, in-person and online, both from invited guest instructors and his own class- es, there at Morris, and around Bruges and abroad, near and far — the States, England, Italy, Germany — and many far-flung Zoom workshops since 2020, as well as simply creating his artwork. The mechanical pencil has been his favorite tool for years now, and he is never without a moleskin notebook.
Elmo has taught at Morris several times, solo and together with Jurgen. Elmo also talked to me about Jurgen and his work, "His way of drawing letters really appeals to me; the
creative, spontaneous way he fills a page and organically makes it into an aesthetic whole, the way he uses pencil and fineliner. During a break at the conference in Asheville, he showed some of his sketchbooks.
The many spectators around the table and I were in awe! So, when I was asked to teach at Cheerio in 2019, one of my first thoughts was to do that with him, to take up letter drawing as the subject of the workshop in America. It was a fortunate move — Jurgen has a generous and relaxed way of teaching (always with humor) and makes exceptional handouts for his workshops."
In our online chat, I asked Jurgen where this love of drawing letters came from, indicating I'd heard it was Thorn- ton's fault, which, you'll see, he affirms, but then he just couldn't stop thinking of the different inspirations that brought about this change in his lettering work so emphatically. "It was a class with Peter definitely. In 2009, he came to teach at the Abbey of Tongerlo. Yves was there, too. Peter was teaching casual caps, pressure and release with pencil. The moment I saw him doing that, I knew I had to draw letters — I couldn't stop myself. And while I was there, I saw Yves doing his built-up caps. So it was both Peter and Yves who first made me want to work this way. And oh, yeah, around this time I saw drawn letters in pages from Christopher Haanes's notebooks, and I thought, I have to do that myself, and I fell in love with notebooks, too. So those are the things that really got me started — along with Joke Boudens. I attended a workshop and she was doing symbols. She was the one who awakened me to the content inside the contours. I thought filling in was just filling in, making it black or working with what- ever tool you have. Joke was the one who was creating the texture and made me see that — along with Lies- bet [her sister]. She, too, made me see that the build-up was something attractive — along with her forms, so unusual. So, yes, Peter Thornton, definitely, it's always him — the moment I saw him doing pressure, release, and pressure, it felt like magic to me."
At the end of our talk, Jurgen had two last thoughts: "I think the most important thing to say is that those people mentioned have definitely influenced me, but I think, without a doubt that every single teacher has changed something within a calligrapher, even if you don't know it at the time –you think you don't know. I had to pick up an American teacher once at the airport, to teach here at Willton, before Morris. He was in the car, but he wasn't really there, he was looking at every single truck with a sign that passed, every building, taking pictures, and I was thinking, 'These are really ugly things!' But now I tend to tell people, after all this time, nothing is ugly to me anymore. He was seeing something of beauty, or something he might find a use for, in so many things that were going by. In calligraphy or typography, you should look at everything never say 'No' to anything you see. Everything may have its value. I am looking at everything.
"Someone else I really want to mention is Kristoffel Boudens. Whenever he is coming over to the coffee shop, our talks are so bloody interesting. His way of looking at things is unique. He does things that just aren't right — spacing, weight distribution — but you know he is doing those things on purpose, and it is so soulful. We all start off learning to do things the perfect way — how it is done, how it should be done. But after a while, there is so much to find in all the things that are not perfect. Think of David Jones, Ben Shahn, Rudolf Koch, Ann Hechle. Imperfection may be the most important inspiration."
■ Jurgen Vercaemst ■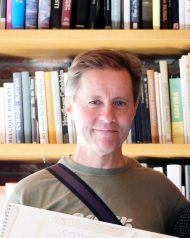 Jurgen Vercaemst is a Flemish calligrapher born in 1967 in a little town in Belgium, Kuurne. Handwriting was a very important matter in his family in the sense that his father always encouraged elegant handwriting. He was fascinated by handwritten manuscripts and started collecting handwritten pieces since he was a teenager. At the age of 25, he attended his first workshop with Frank Missant, who ignited his interest in calligraphy. That first workshop with Frank Missant, along with a documentary he saw on the local television on Brody Neuenschwander's art, was the start of a life full of calligraphy.
Yves Leterme was his life long teacher/mentor and he attended every possible workshop with Yves. Jurgen crossed paths with Peter Thornton who raised his interest in pure letterforms, the drawing of letters, and composition/layout. Further teachers were Joke and Liesbeth Boudens, Brody Neuenschwander, Carl Rohrs, John Stevens, Elmo van Slingerland, Torsten Kolle, Ewan Clayton, Christopher Haanes, Julian Waters, Kristoffel & Pieter Boudens, Yukimi Annand, and of course Jan Rossey.
Since April 2018, he runs a coffee bar (www.morriscoffeeandcrafts.be) with his wife Anneke in a little town near Bruges, called Ruddervoorde, where he teaches along with fellow calligraphers. He teaches at home and abroad. A highlight of his teaching was a team teaching along with Peter Thornton at the calligraphy conference in Asheville in 2015, and the Cheerio class along with Elmo van Slingerland in the fall of 2019.
The pencil has been his favorite tool, and at all times he carries his Moleskine notebooks with him.